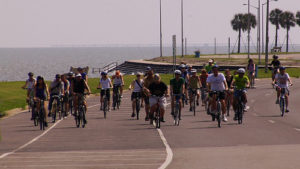 Register today for our New & Better Levee Breach Bike Tour!
WHEN: Sat, April 22, 2017
TIME: 9:30 to 11 a.m.
WHERE: Tour departs from City Park
NOTE: You must provide your own bike.
The 90-minute guided tour is a healthy way to find out more about the worst civil engineering disaster in U.S. history.
Beginning at City Park, cyclists will ride along scenic Bayou St. John to the Levee Exhibit Hall & Garden and Relic Flooded House at the east breach of the London Avenue Canal. Next is several points of interest and a second breach site on the west side of the canal, and then a permanent pump station.
Our 6th annual Levee Breach Bike Tour is improved from previous years because 1) it has additional sites of interest, and 2) it's a third less cycling time.
To see the bike tour created on Google maps, click here:
To register, click here.