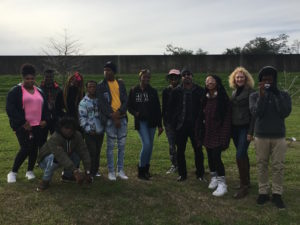 The Arts Council of New Orleans' is working to create public art to bring awareness and attention to urban water issues.
The Arts Council is also working with 14 youth from The NET: Gentilly high school who will work alongside Carl Joe Williams to create one of the public artworks to speak to neighborhood history, community resilience, and our relationship with water.
On January 30, 2020, Levees.org founder Sandy Rosenthal met with 10 of the high schoolers at the Flooded House Museum and the Levee Exhibit Hall & Rain Garden.
The two exhibits are located side by side next to the London Avenue Canal breach site in Gentilly.