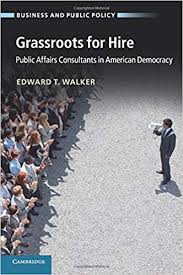 Last Friday, a New Orleans judge ordered the City Council to conduct a new vote on whether to allow Entergy to build a natural gas-fired power plant in eastern New Orleans.
Civil District Court Judge Piper Griffin agreed with opponents who insisted the council's vote in March 2018 was tainted by dozens of paid actors who filled seats in council chambers.
Eventually it was revealed that Entergy paid two public affairs consultants to artificially create the crowd; and that its CEO was aware of the scheme.
Entergy is one of only two Fortune 500 companies in Louisiana and the only one in New Orleans.
According to Edward Walker in his 2014 book Grassroots for Hire, forty percent of Fortune 500 corporations in the US use public affairs consultants to help locate and target would-be activists and offer them non-monetary incentives for participation.