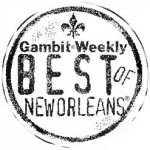 Just under a year ago, I ran into Clancy Dubos (owner of Gambit Weekly) at the Green School Edible Garden in New Orleans. When we parted, Mr. Dubos assured me that he would issue a style alert to all Gambit Weekly reporters when referencing the August 2005 flooding.
It was Mr. Dubos's intention to request that Gambit Weekly reporters use the term 'federal flood' to describe the flooding devastation on August 29, 2005. A week later, he wrote me and told me "already done."
So we were pleased – but not surprised – that Gambit Weekly had weighed in on our Petition to the The New York Times urging the paper to follow the advice of its own ombudsman – that is, to be as specific as possible when referencing the metro New Orleans flooding.
The segment below appeared in Gambit Weekly's "Heroes and Zeroes" feature on page 11.
The New York Times missed the mark when the paper responded to a Levees.org petition requesting a correction to a December 2010 story, which had ascribed the 2005 floods to "Hurricane Katrina" and not the federal levee failures. Senior editor Don Hecker wrote that the error was cited "out of context." Those are the sort of weasel words a newspaper is supposed to debunk, not use to defend its own mistakes.
For this, Gambit Weekly threw a "brick" at the The New York Times.
http://www.bestofneworleans.com/gambit/bouquets-and-brickbats/Content?oid=1558913