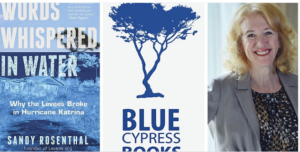 Founder Sandy Rosenthal will be invited featured author on Saturday, September 26th from 12 pm – 2 pm in front Blue Cypress Books for a socially-distant curbside book signing!
Rosenthal will be signing her debut book, Words Whispered in Water: Why the Levees Broke in Hurricane Katrina. 
In the aftermath of one of the worst disasters in U.S. history, Words Whispered in Water tells the story of one woman's fight—against all odds—to expose a mammoth federal agency—and win.

It's a horror story, a mystery, and David and Goliath story all in one. In 2005, the entire world watched as a major U.S. city was nearly wiped off the map. The levees ruptured and New Orleans drowned. But while newscasters attributed the New Orleans flood to "natural catastrophes" and other types of disasters, citizen investigator Sandy Rosenthal set out to expose the true culprit and compel the media and government to tell the truth. This is her story.
Blue Cypress books is located at 8126 Oak Street, New Orleans. Masks are required.