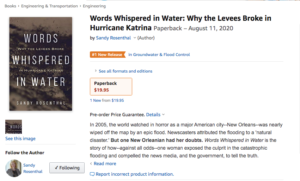 Founder Sandy Rosenthal's debut book is now #1 New Release on Amazon.com in Groundwater & Flood Control.
The book is titled Words Whispered in Water: Why the Levees Broke in Hurricane Katrina.
Told in the first person, Rosenthal's book describes her role as a citizen investigator and how––against all odds––she exposed the culprit in the catastrophic flooding of New Orleans and compelled the news media, and the government, to tell the truth.
The publisher is Florida-based Mango Publishing. The book is due out in August 2020.
To preorder the book, click here.