With Tropical Depression Eight swirling in the Gulf and getting better organized, I cannot stop thinking about the day the Hurricane Katrina model surprised everyone.
By mid day Friday August 26th, many New Orleanians, including me believed that Hurricane Katrina was heading toward the middle of the Florida Panhandle. Then came the big shock.
Below is an excerpt from my upcoming book, Words Whispered in Water; Why the Levees Broke in Hurricane Katrina. It's from Chapter 1 "Goodbye New Orleans.'
********
During the day on Friday August 26th, some of the computer models shifted the storm's track, now a hurricane, west. Then, late in the afternoon, all models shifted in unison, and New Orleans was moved to the center of the cone of certainty. Governor Blanco declared a state of emergency at 4:00 p.m.
By 7:00 a.m. on Saturday (August 27), the hurricane was over the center of the Gulf of Mexico. At first, the eye started to disintegrate, normally a sign of weakening, but, in this case, it was redistributing. Wind speed picked up around the central vortex, and pressure fell again. Later, the eye contracted, and masses of thunderstorms sprang to life. Within a few hours, the storm doubled in size, eclipsing most of the gulf.
Throughout the day on Saturday, radio and television reports urged residents to evacuate. Officials for Plaquemines and St. Charles Parishes (low-lying coastal areas south of New Orleans) ordered mandatory evacuations. The governor ordered the contraflow and, by 4:00 p.m., the state police had reversed all inbound lanes. By this time, the hurricane watch had been widened to include everything from western Louisiana to the Alabama–Florida border.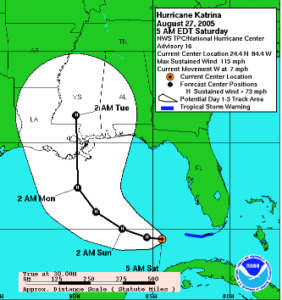 The National Hurricane Center (NHC) issued a bulletin that warned of a powerful hurricane with unprecedented strength: "Most of the area will be uninhabitable for weeks. Perhaps longer. At least one half of well constructed homes will have roof and wall failure. All gabled roofs will fail. … Water shortages will make human suffering incredible by modern standards."
Then, on Saturday night, Max Mayfield, director of the NHC, did something he rarely does. He called all the governors in the cone of certainty to warn them. Upon urging from Governor Blanco, he also called Mayor Nagin, telling him that some levees in the greater New Orleans area could be overtopped."