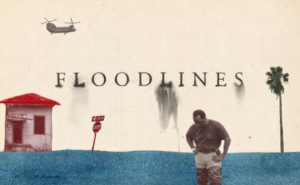 Floodlines is named best of 2020's podcasts by NPR, New York Times, New Yorker, Vanity Fair, Guardian, Economist and more.
The free podcast is produced by The Atlantic Magazine and hosted by the talented Vann R. Newkirk II.
Floodlines revisits the story of the levee breaches through the experiences of four New Orleanians—Le-Ann Williams, Fred Johnson, Alice Craft-Kerney, and Levees.org founder Sandy Rosenthal—who remained in the city through the aftermath, and who are still living with the consequences.

Here's a description of the ambitious 4-hour podcast released by The Atlantic Magazine at its March 2020 release:
Some call it Hurricane Katrina. Some call it the Federal Flood. Others call it the day the levees broke. On August 29, 2005, the city of New Orleans was submerged. That story of hubris, incompetence, and nature's wrath is now etched into the national consciousness. But the people who lived through the flood and its aftermath have a different story to tell. A story of rumors, betrayal, and one of the most misunderstood events in American history.

Founder Rosenthal is heavily featured in episode VI titled 'Reckoning.' Click here to listen: http://go.levees.org/FloodlinesEpiVI
For the NPR story, click here.
For the New York Times story, click here.
For the Vanity Fair story, click here.
For the New Yorker story, click here.
For the Economist story, click here.
For the Guardian story, click here.
For the Atlantic Magazine press release, click here.