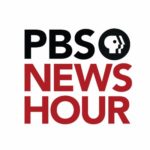 We are saddened to hear about the passing of PBS News Anchor Jim Lehrer. Mr. Lehrer was a visionary who provided substantial and valuable coverage for Levees.org in its earliest years.
One example is on June 1, 2006, when corps commander Lt Gen Carl Strock apologized for a major failure in the levee system protecting New Orleans, but was quick to lay blame on local New Orleans officials.
In 2006, the powerful Army Corps of Engineers controlled the narrative about why the levees broke, and Levees.org was but a fledgling grassroots group. But that did not deter Jim Lehrer.
Below is an excerpt about Mr. Lehrer from Levees.org founder Sandy Rosenthal's upcoming book, Words Whispered in Water: Why the Levees Broke in Hurricane Katrina (Mango Publishing) due out in August 2020 as a lead title:
June 1, 2006

"I felt someone touch my arm. It was Betty Ann Bowser with Jim Lehrer's PBS Newshour. She wanted to hear my commentary on today's events, but she wanted to interview me at the site of one of the levee breaches. So we agreed to meet at the 17th Street Canal floodwall breach site at 12:00 sharp.