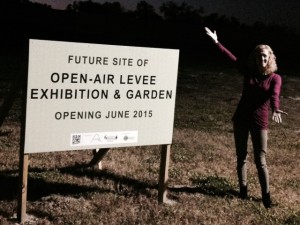 There is new evidence of progress at the proposed Levee Exhibit and Garden at the east breach of the London Avenue Canal in the Gentilly neighborhood.
There is now a working street light at the location. This powerful street light lights up the lot at 5000 Warrington Drive all the way to the back of the floodwall.
The new light is wonderful, not just for the security of the intended levee exhibits and garden, but also for the security and safety of the neighbors.
The soon to be unveiled Levee Exhibit and Garden will be a memorial to the souls lost in The Flood, a commemoration of an event that changed America as we know it, and a celebration for the resilient survivors who returned to rebuild.
The Exhibit and Garden is made possible because the wonderful New Orleans Redevelopment Authority (NORA) makes vacant land available for greening and urban projects through its fabulous Growing Green program. Check out this important program here.
The Exhibit and Garden is privately funded. If you would like to help, click here.