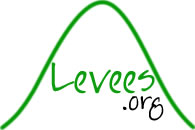 Levees.org has just passed the 2.5K milestone for total Facebook followers. That's a lot of followers in today's world of intense competition.
On the Twitter platform, Levees.org has racked up nearly 3,000 followers.
But perhaps most amazing is the number of views to Levees.org's website. Eight weeks after the levees failed in New Orleans during Hurricane Katrina, founder Sandy Rosenthal's son Stanford – barely 15 years old – created the Levees.org site.
The interactive website has logged a whopping 944,383 page views since its launch on December 3, 2005. This while Stanford and his family was still evacuated away from the city and living in Lafayette.
Not bad for a true grassroots group, built from scratch, which has never taken funds or pro bono services from any stakeholder group or industry.
Stanford, also at age 15, designed the logo shown above.