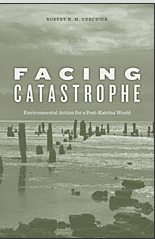 BOOK REVIEW: "Facing Catastrophe: Environmental Action for a Post-Katrina World" (Harvard University Press, May 2010)
While portions of Rob Verchick's book are required reading at several law schools and graduate programs in disaster studies, the book also makes the economics of environmentalism remarkably accessible to lay people. With good writing skills and use of personal experiences, Verchick explains the important distinction between manmade infrastructure (e.g. buildings and bridges) and natural infrastructure (soil, wetlands and forests). And within this analysis, we find that the infrastructure of the Louisiana coast provides not just goods, but also services, most significantly, storm surge reduction.
One gets an education-packed read in "Facing Catastrophe." For example, we learn that half the world's population lives near the coast and that the state of Louisiana's coastal plain is crisscrossed by 10 major navigational channels.
Using illustrative examples from disasters all over the world, Verchick lays out how laws allow for valuable natural infrastructure to be squandered yet at the same time, "a government would never allow private parties to dismantle bridges for cheap steel." Verchick analyzes the failure of environmental policy in protecting natural infrastructure and for imagining proactive solutions. A high price leads to judicious use and perhaps conservation whereas a low price, he says, leads to gluttony.
Click here for the full book review.
——-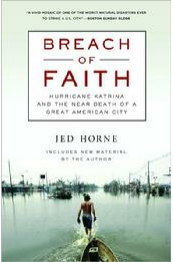 BOOK REVIEW: "Breach of Faith" (Random House, June 2006)
Author Jed Horne has shown his journalistic genius in converting a mountain of facts into an exciting page-turner. By blending real life stories with one of the century's most memorable – and horrific – events, Horne is likely responsible for assuring that the Flooding of 2005 is remembered, and with accuracy.
Filled with details in settings before, during, and after the terrible flooding, Horne infused these details with spirit, and at times, gentle humor. For example, in describing what Gregory Richardson, a frightened homeowner could see from the roof of his flooded eastern New Orleans home, Horne wrote "…he heard a sound, the tapping and ripping sound of another roof being breached from the inside out, and in due course the house two doors down hatched another human"
There are countless colorfully presented documented references that explain not only the "what" and "why" of the flooding but also the intense voluminous disinformation about it that pervaded the media after the fact…."
Click here for the full book review.
——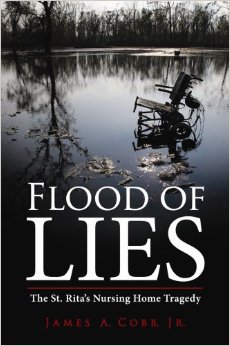 BOOK REVIEW: "Flood of Lies" (Pelican Publishing, July 2013)
James Cobb, the trial lawyer who defended nursing home owners Sal and Mabel Mangano, has written a superb book about his personal experience. "Flood of Lies" is a who-dunnit thriller about the most well-remembered event during Hurricane Katrina – the tragic deaths of thirty-five vulnerable nursing home residents. Through Cobb, we get a first hand look at everything: political intrigue and trickery, depression, sorrow, alcoholism and suicide.
Upon the release of "Flood of Lies," just shy of eight years since Hurricane Katrina, the American citizen at large does not understand that the devastating flooding in New Orleans was primarily due to the failure of levees and floodwalls designed and built by the Army Corps of Engineers. Without giving away the exciting shock ending, "Flood of Lies" is about the only jury who decided who was responsible for the worst civil engineering disaster in United States history.
The events that unfolded after the levees broke on August 29, 2005 need to be remembered. So I am glad that James Cobb wrote a book about it, and I expect that "Flood of Lies" will be read and appreciated for decades to come.
Click here for full book review.
——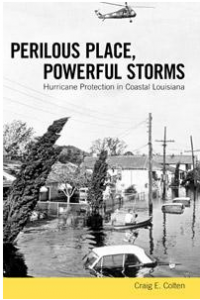 BOOK REVIEW: "Perilous Place, Power Storms: Hurricane Protection in Coastal Louisiana" (University of Mississippi Press, September 2009)
Craig E. Colten's new book presents a massive amount of important data on the man made vulnerability of coastal Louisiana. In meticulous detail, the LSU Geography professor explains how engineering mistakes, funding battles, and newly imposed law requirements resulted in an inadequate and incomplete flood protection system when Katrina arrived in August 2005.
But because the book may be referenced often in the years to come, it is important to point out some undocumented passages and unfounded conclusions pertaining to the U.S. Army Corps of Engineers and the flood protection structures they built in metro New Orleans.