Myth Buster One
The top commander of the Army Corps of Engineers recently admitted he relied on things he had heard but not personally researched when he told the New York Times that New Orleans officials are partly to blame for the Katrina flooding. Responsibility lies with the Corps, mainly for its tragic decision to save $100 million by short-sheeting steel pilings in the canal walls.
Click here for full report.
Myth Buster Two
Half of New Orleans is at or well above sea level.
Source: Tulane and Xavier joint report
Myth Buster Three

Pre-Katrina, more New Orleans homeowners had flood insurance per capita than the rest of the nation.
Source: New Orleans Times Picyune
Myth Buster Four
More than half the United States population lives in counties protected by levees. This information was found in a FOIA request filed by Levees.org.
Source: FEMA (PDF).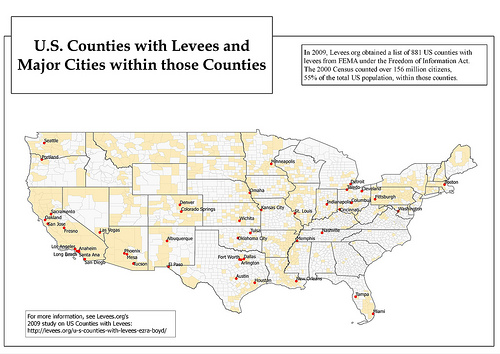 Myth Buster Five
Pre-Katrina, there was no warning to New Orleans residents that the hurricane levees could breach and fail. Everyone – including the Army Corps – was surprised when the levees crumbled in 2005.
Source: Digital Journal
Myth Buster Six

New Orleans was the first in the nation to place experts on its local levee boards. When Louisiana passed legislation requiring experts on its levee board, the state had to write it from scratch because there were no other models in the nation.
Source: New Orleans Times Picayune (PDF)
Myth Buster Seven
The widely publicized "drive-by" levee inspections pre-Katrina were a red herring in the flooding story of New Orleans in 2005. The inspections were annual audits by the Corps of Engineers of the levee district's maintenance. They were not relevant in the disaster.
Source: New Orleans Times Picayune (PDF)
Myth Buster Eight
After the Flood, commentators fed a myth that conservation-minded groups blocked the Army Corps of Engineers' original plans for peripheral barriers and forced the agency to choose a second inferior design. In his latest book, Robert Verchick tells the true story.
Click here for excerpt.
Myth Buster Nine
U.S. counties protected by levees are wealthier and unemployment is lower. Levees more than pay for themselves when their cost is compared to the investment they protect.
Source: New Orleans Times Picayune
Myth Buster Number Ten
The majority of major metropolitan areas on this planet, and 39 out of 50 major cities in the United States, are in flood plains.
Click here for more on story.