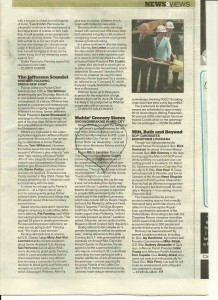 Two years ago, at the annual Green School Edible Garden celebration in the Broadmoor neighborhood of New Orleans, Clancy Dubos made me a promise.  He told he would issue a style alert to all writers for Gambit Weekly decreeing that from now on, the flooding during Hurricane Katrina shall be called the "federal flood."  That was March 2010.
Dubos issued this style alert because he agreed with Levees.org's assertion that saying the flooding was caused by Katrina was misleading, harmful and wrong.   He agreed that reliance on Katrina Shorthand was lazy journalism.
So we note with appreciation that style alerts at Gambit are treated seriously as demonstrated by a passage in this week's Gambit Weekly.  A short article by Editor Kevin Allman about a new grocery store's groundbreaking contained the proper characterization of the flooding.  See second sentence.
Soon they all be like Gambit.