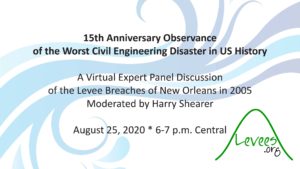 Part time New Orleans resident Harry Shearer (producer of The Big Uneasy) will moderate the one-hour expert panel discussion.
Guest panelists:
Gary Rivlin, author of Katrina: After the Flood
Rudy Vorkapic, creator of satirical newspaper The Levee: "We Hold Nothing Back"
LT General Russel Honore (Ret)
Flozell Daniels, CEO & President of Foundation for Louisiana
Mark your calendar for Tuesday August 25th from 6:00 to 7:00 p.m. Central.
Click here for recorded virtual panel.