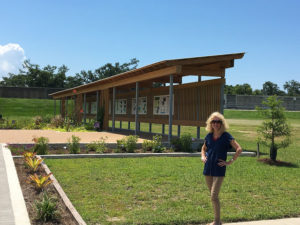 Residents and visitors alike can view six museum-quality exhibit panels housed in a 100-foot covered walkway. The text and forty photographs tell the story and bust the myths still encircling the levee breaches in Greater New Orleans in 2005.
The six panels are about ALL the levee breaches, ALL the neighborhoods, ALL the lives.
The Levee Exhibit Hall and Rain Garden are located at the east breach site of the London Avenue Canal. Water from the breach had actually pushed the home that once stood there, foundation and all, into the street.
Much of the information in the exhibit is new and referenced from a scientific paper just released in August 2015 in Water Policy, the official journal of the World Water Council.
The exhibit hall and garden is free, open to everyone during daylight hours and is expected to be permanent.
The beautiful garden uses native plants which use less fertilizer and reduce the load on the municipal drainage system. (If everyone had a rain garden, we would not have to move cars to neutral grounds during a spring thunderstorm.)
For more about the Levee Exhibit Hall and Rain Garden, see this story by Katy Reckdahl with the New Orleans Advocate.
FOR A MORE DETAILED EXPLANATION OF THE LEVEE BREACHES, CLICK HERE.