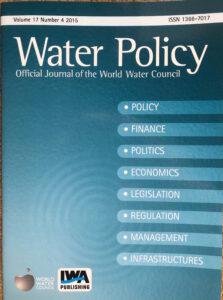 In February 2013, Levees.org realized that the only civil engineers who blamed local New Orleans officials for the 2005 flooding during Hurricane Katrina were the authors of the very first levee investigation––a report completed on a shoestring budget, mere months after the disaster and without the benefit of subsequent major studies.
Levees.org spoke with the authors and together, decided to write a new journal article.
The resulting new  watershed paper retracts wrong conclusions made in the 2006 ILIT report about what caused the levee failures and replaced it with the full and true details. The levees failed mainly due to a mistake the Army Corps of Engineers made in the 1980s when interpreting the results of their levee load test study. The paper is also a "one stop shop" and addresses most, if not all, of the significant issues and events relating to the cause of the 2005 flooding.
The new paper appears in Water Policy, the official journal of the World Water Council based in Marseilles, France.
A story about the article appeared in the New York Times in an above the fold Sunday paper on May 24, 2015. After the appearance of the article, major media discontinued blaming local officials for the flooding and laid blame where it belonged.