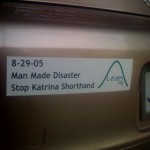 Levees.org has just launched its latest salvo to squash myths about the metro New Orleans flooding.
The Stop Katrina Shorthand campaign is urging everyone in metro New Orleans to refrain from labeling the devastating flooding on August 2005 as caused by "Katrina."
Katrina Shorthand promotes misunderstanding and leads American citizens to believe the New Orleans region was simply overwhelmed by a natural disaster, when in fact, the flooding was primarily a man-made event.
As a springboard for the new campaign, Levees.org is spotlighting a resolution unanimously passed by the New Orleans City Council urging all local media to refrain from using Katrina Shorthand.
The resolution, written by Levees.org, was sponsored by President Arnie Fielkow and co-sponsored by Councilwoman Cynthia Willard-Lewis District E.
Click the link below for a short video about the new campaign.