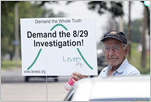 Responsibility for the failure of the levees and floodwalls lies with the U.S. Army Corps of Engineers according to Judge Stanwood R. Duval, Jr's dismissal, US District Court | Eastern District of Louisiana.
These are some of the most comprehensive reports:
– Interagency Performance Evaluation Task Force report in 2007
– the federal Decision-Making Chronology in 2008
– the National Academy of Sciences report in 2009, and
– a 2015 expert paper published in Water Policy and featured in the New York Times.
Louisiana and the nation deserve a truly independent investigation of the flood protection failures – and the decision making that led to those failures – during Hurricane Katrina.